Manually Downloading Structured Workout Files from Final Surge
Below are instructions on how to download workout files from Final Surge and use them to complete workouts on fitness devices.
---
From the Final Surge calendar (beta version), navigate to the workout you would like to download. The workout you are downloading must already have a structured workout associated with it (click here for video tutorial on creating structured workouts). Click on the workout, and from the Quick Preview, expand the Workout Builder section: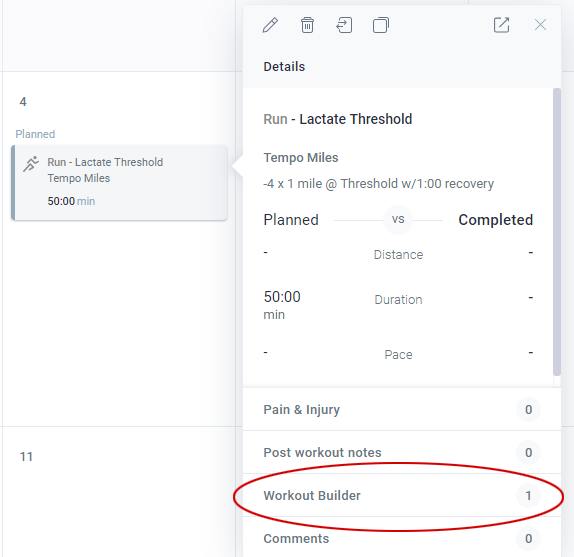 Once you have expanded Workout Builder, if a structured workout exists, you will see a chart of the workout along with the steps of the workout. In the top right-hand corner there is a download icon. Click this icon to download a FIT file to your computer. Once you click the icon, it could take a few seconds before the download displays in your browser.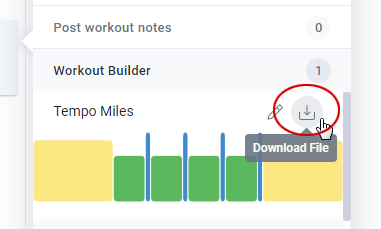 Depending on the browser you are using, you will be notified differently when the download is complete. If using Chrome, you will see the file display at the bottom of the browser when it has been downloaded:

Some browsers will ask you where you would like to save the file while others will save it to your "Downloads" folder. In the example below, Chrome on a PC will save it to your "Downloads" folder. Simply click on the file notification and select "Show in Folder" to view where the file was saved. Once the file has been saved to your computer, you can now use it by putting it on your fitness devices or uploading it to your online training platforms that can execute structured workouts.
---
Placing Workouts on your Garmin Device
If you do not have a Garmin watch or cycling computer that is compatible with the Final Surge Connect IQ™ App, you can still manually place workouts in FIT file on your Garmin device. Below are instructions on how to load the file on your device.
Plug in your Garmin device to your PC or Mac using the USB charging cable for your device.
Once plugged in, your computer will recognize the device. When prompted, select "Open folder to view files" so that you can browse your devices like a USB drive.



In the root of your Garmin device, you will see a GARMIN folder. Open up that folder.

Inside the GARMIN folder, scroll down until you see the WORKOUTS folder. Open up that folder.

Copy the FIT file that you downloaded from Final Surge inside of the WORKOUTS folder. You may see other FIT files in this folder which usually have an 8 character name of letters and numbers. Simply put your downloaded file in this same location.

Once your file is inside the WORKOUTS folder on your Garmin device, you can then unplug your device from your computer. Your Garmin device will now recognize this file as a structured workout that you can start.
---
Starting a Workout on your Garmin Device
Depending on the Garmin device you have, this method can vary. Below are links on how to start workouts on some common Garmin watches and cycling computers: