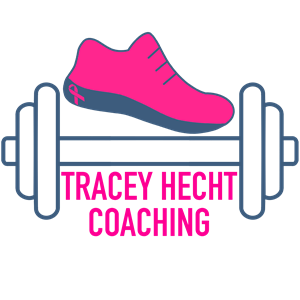 RRCA Certified Running Coach and NASM Certified Personal Trainer
Get fit. Get fast. Sweat out chemo. Chase your kid. Train for life.
Welcome to Tracey Hecht Coaching! A little bit about me...

I have been obsessed with sports and fitness since I could walk. I got my Bachelor's Degree in Athletic Training from the University of Pittsburgh and passed the National Board Exam in 2006 to become a Certified Athletic Trainer. I then got my Master's Degree in Exercise Science with a concentration in Exercise, Nutrition, and Eating Behavior in 2008 from the George Washington University. I went on to work in sports medicine at 3 different Division 1 universities and then transitioned into the clinical setting in 2014. I also have my RRCA Level 1 Running Coach certification, my NASM Certified Personal Trainer certification, and my AFAA Group Fitness Instructor certification.

I've been passionate about running for over 10 years. I ran my first half marathon in 2011 and my first full marathon in 2012. I get great joy from running and see it as a form of meditation as well as a triumph when I hit a goal. I want to help you achieve your goals, be it a particular race, pace, or just to commit to activity. I love helping people take their first step towards running, or their millionth. After having my first child in November 2017, I learned a whole new side of running. I now do most of my runs with at least one, if not both (second child born in August 2019), of my kids in the running stroller! I am especially interested in helping other moms who are looking to start their fitness journey or get back into it. Additionally, after beating stage 3 breast cancer in 2020/2021 and staying active throughout treatment, I have a new passion for helping breast cancer previvors, patients, thrivers, and survivors maintain or get back into a running or fitness routine. No matter who my client is and what the goal is, I want to develop a running and/or strength plan for you that is fun but also challenging and rewarding.

When working with me (see pricing below), you will get a custom running plan tailored to your skill level and goals; communication and workouts via Final Surge, e-mail, phone, and in person (if geographically appropriate); advice on how to balance running and a healthy lifestyle with the rest of your life; and me as an occasional running buddy (again, if geographically appropriate)! Moms, you are welcome (and encouraged!) to bring your junior running buddies in their stroller on your runs!

Please use the contact option to the right if you'd like to work with me or ask me any questions!

My personal bests:
5k- 21:07
10k- 45:36
15k - 1:14:22
13.1- 1:43:53
26.2- 4:21:46

My pricing:

Running:
-Virtual Coaching: $55 per month
-10 week Bump to 5k for moms 15 months postpartum or less: $105 flat rate
-private (including in-person sessions) coaching excluding Bump to 5k program : $75 per month
-4 month commitment for private coaching: $200 flat rate
-Sweatin Out Chemo Cancer Survivor/Thriver coaching: $50/month

Strength:
-Virtual training- no zoom: $75 per month (3 month commitment: $200)
-Virtual strength training plus 1 30 min zoom per week: $150 per month (3 month commitment: $400)
-Sweatin out chemo - cancer survivor/thriver strength coaching: $65 virtual only, $100 with weekly zoom

Combination Running and Strength:
-virtual with 1 zoom per week: $180 per month ($475 for 3 month commitment)
-Sweatin out chemo for cancer survivors/thrivers- virtual only, no zoom: $110 per month (3 month commitment for $300 total)
-Sweatin out chemo for cancer survivors/thrivers- virtual with weekly zoom: $125 per month ($340 for 3 month commitment)

*Zoom group fitness class- $30 per 60 minute class
Training Plans:
These plans range from a first-timer couch to 5k program to a marathon + basic strength program.