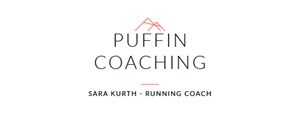 Puffin Coaching
Run coaching for the emerging and re-emerging athlete
I am a runner, running coach, and running blogger, having completed 29 road and trail marathons/ultras, and more half marathons than I can count, both as a runner and a pacer (I'll even admit to doing more than one of those races only to get a cupcake at the end).

As a running coach, I work with emerging and re-emerging athletes. Newer runners and first-time half and full marathoners.

I know that becoming a lifelong runner is not only physical, but largely mental. I focus not only on the hard stats of your runs (how far or how fast you should or did run) but also what you were thinking about or what was taking your mind away from what you were doing.

I encourage my athletes to define success for themselves and to always be their best, even when they won't be the best.
Training Plans:
5k Plans
Half Marathon Plans
Base Work/Maintenance Plans